In many ways, footy can be a complex sport to train for. An 80-minute game requires players to delve into virtually every component of their physical fitness yet still play with high levels of skill. Naturally then, footy players have to be fitness all-rounders. This kind of sheer physical ability requires a well-designed training program that covers both strength and cardiovascular fitness.
Training with Blake Green
Having played over 200 first grade games in the NRL and the Super League, Blake Green is well versed in the physical demands of elite football. Currently the halfback for the New Zealand Warriors, Green is enjoying a wealth of success.
With success still comes the intense physical demands of NRL. He is expected to make crucial tackles on his goal line, march his players up the other end of the field and still have enough left in the tank to provide a creative spark in attack that could lead to a try.
The kind of physicality that Green needs to display week in and week out can be brutal. Rugby isn't just about strength, it is also about having enough cardio fitness to ensure that you can match the speed of opposition players to actually catch up to them before you can use your strength to hold them up over the try line.
Cardio Training
If your cardio is not up to scratch, it's likely that you'll break down physically and mentally before the end of the game.
That's why Blake Green says: "If you tend to do those full-body workouts, at least you sort of touch all areas of your body in terms of general strength and stability and around your joints. It's best to start that way before you're introducing heavy lifting and isolation."
An important but misunderstood aspect of overall fitness is cardio as it underpins almost every other fitness component. However, cardio isn't something that you can put some overtime in to and expect instant results. A thorough cardio program will determine the player's specific cardio demands during a game and work to improve areas of weakness.
When it comes to developing cardiovascular fitness, a good workout is long slow distance training. Building up prolonged fitness helps players experience less fatigue while also giving them the ability to recover quicker between bursts of high-intensity activity. This kind of training can be done in the form of running, swimming or cycling – so long as an easy pace is maintained for between 20-30 minutes.
A great cardio exercise without the risk of injury is rowing. Rowing is one of the best full-body exercises as it engages multiple muscle groups and doesn't heavily burden joints. A zero-impact exercise such as rowing can be a good way to increase cardio fitness during the football season without adding more stress on the body.
Strength Training
Strength is another crucial component when it comes to training for professional footballers. Strength training helps build muscle as well as strengthening joints and bones to help avoid injury.
Strength training means using resistance to create work for the muscles and ideally, this type of training would occur between three and five times a week. If you're new to strength training, stick to the same repertoire of moves two to three times a week in order to build basic strength and fitness levels.
Green says: "The main thing is to just lift weights within your limits and within your range, especially to start off with just to see where you're comfortable and give yourself a little bit of a base marker."
For footballers, strength training is a priority in the off-season as their bodies are already put through enough during the season. Therefore the off-season is about training and re-adjusting your body to the demands of a match. Whereas during the season, the focus is on staying fit, rather than getting fit.
The good news for those who want to train like professional players is that strength training can be done at any time, no matter your current fitness levels. Committing to strength training requires a program that gradually increases and encompasses warm-ups, light exercises, rest and heavy lifting.
Muscle Groups
In order to get through the physical demands of the game, rugby players need a strong core, legs and hips. These physical requirements see major muscle groups like the quadriceps and hamstrings, along with the neck and shoulder getting used in play.
With all of these muscles getting a work out during a game, it shows just how important overall fitness is when it comes to playing footy.
Blake Green says: "I think it's important that you tick off all the [training] boxes especially when you're starting off just so you don't overload certain areas or only tick the major muscle groups."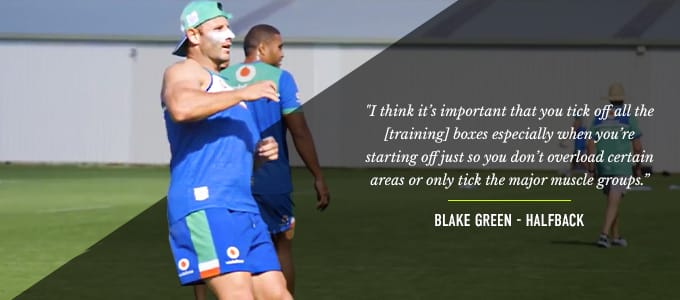 Training like a Professional
As rugby is a game synonymous with hard running and hard-hitting, footballers must have both good cardiovascular conditioning and muscular strength. Whether an aspiring athlete or a professional, training is the same for both – build up your strength, pay attention to your cardiovascular fitness and know your limits. Training like a professional really does come down to the old adage "work smarter, not harder".