To the spectator, an athlete has a dream job – they get to play their chosen sport and make money from it. However, being an athlete is hard work. Athletes don't just work hard on game day, they train, diet, prepare and then train some more every day of the week. Yet, in between trying to be the best athlete they can, they still have to take care of their own needs and in most cases, the needs of a family.
That is why it is important to try to maintain a work-life balance. For athletes that might look like spending time with family or having other hobbies. Achieving work-life balance can be individually tailored, as long as the athlete can see that there is more to life than their ability to play sport.
Adam Blair: A Seasoned Veteran
Debuting in the NRL 13 years ago, it would be safe to assume that Adam Blair has worked out how best to perform as a footballer and as a husband and father. From the 33 year old Kiwi second rower's 4 grand final appearances to his 48 test appearances for New Zealand, Blair is an old hand in the game.
In between training routines, external sponsorship commitments and travelling almost every second week to play matches in Australia, he has a family to think about. It would be easy to get lost in the world of being a professional NRL player.
The training loads are intense, the nutrition plans even stricter and the playing schedule is gruelling for 7 months out of the year – and that doesn't even include pre-season training. Yet Blair puts a few important things first and that ultimately goes a long way in helping him achieve and maintain a work-life balance.
Blair says: "The weekends we do have together, I do try and spend a lot of time at home with my kids. I'm not a big drinker so I don't really go out partying because my weekends are taken up by my children. I love being outdoors and taking them out."
The success that Blair has achieved in his 297 NRL appearances is a testament to maintaining a work-life balance – knowing when to go hard on the field and knowing when to show up for his family.
Commitment to their sport
Maintaining a good work-life balance isn't about making performance sacrifices. It is about maximising performance, taking advantage of the hours spent training and getting into the right mindset.
In order to maximise performance, athletes should be thinking about how they are playing, understanding why they are playing that way and visualising success. Once the athlete starts to understand the game they are better equipped to deal with performance highs or lows.
Vodafone Warriors forward Adam Blair says, "As you get older you understand how the body works and what it takes, what you need to do so you understand what's good for you and what's not."
"You try to stay away from the bad things. Do all the right things to be prepared for a tough pre-season coming forward."
It is important to make a commitment to your sport in the pursuit of work-life balance. Otherwise, if you aren't maximising your performance, training hard enough or doing all you can out on the field, you take those regrets home with you.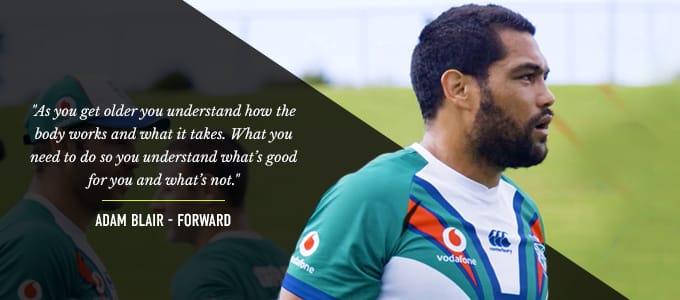 Commitment to their family
Being with family is important to athletes, because without them, who are you going to share the highs of grand final wins and the lows of season ending injuries with?
Strangers expect athletes to be a certain way, when the reality is, their profession only makes up part of their personality. When you become so linked to what you do, and for athletes that often involves results, it is hard to know one's value outside of that sport.
That is why it is important to make a commitment to family as well as sport. To be a good athlete, you need to be a complete person and family, be it your parents, partner or children, go a long way in making a person feel complete.
At the end of the day, you cannot control a playing schedule. Athletes miss memorable family moments and while it isn't the end of the world, it should be a reminder to be present with your family, thinking about them and not football, when you can spend time with them.
Blair says: "We do miss a lot of birthday parties due to, obviously, football commitments but I guess the hardest thing is our diets."
While you can never switch off as an athlete, it is important to learn how to cut yourself some slack and enjoy time with family.
Prioritising what gives you the most satisfaction allows you to be a more well-rounded person and a better athlete.
At the end of the day, a professional sports career is not going to last forever. That is why it is so important to define who you are as a person without thinking about sport and trying to make and maintain commitments to that part of yourself so that when retirement calls, you have a family and hobbies to go home to.